WELCOME TO REGATTA DOCK SYSTEMS
WELCOME TO REGATTA DOCK SYSTEMS

In the hunt for the premier dock builder in Connecticut? Look no further than Regatta Dock Systems. Founder Mike Lauretano's passion for lake life has fueled our vision since 2006, and since then we've crafted some of Connecticut's most elegant and functional docks. Our dedicated team continues to champion that legacy with unmatched dedication and pride.
Let our professional Connecticut Dock Builders help you design, install and maintain the ideal dock for your lifestyle. Whether you need a floating dock, fixed dock, swim platform, boat lift, or PWC Port, we are here to help. Make this the year to take care of your dock and boat lift needs.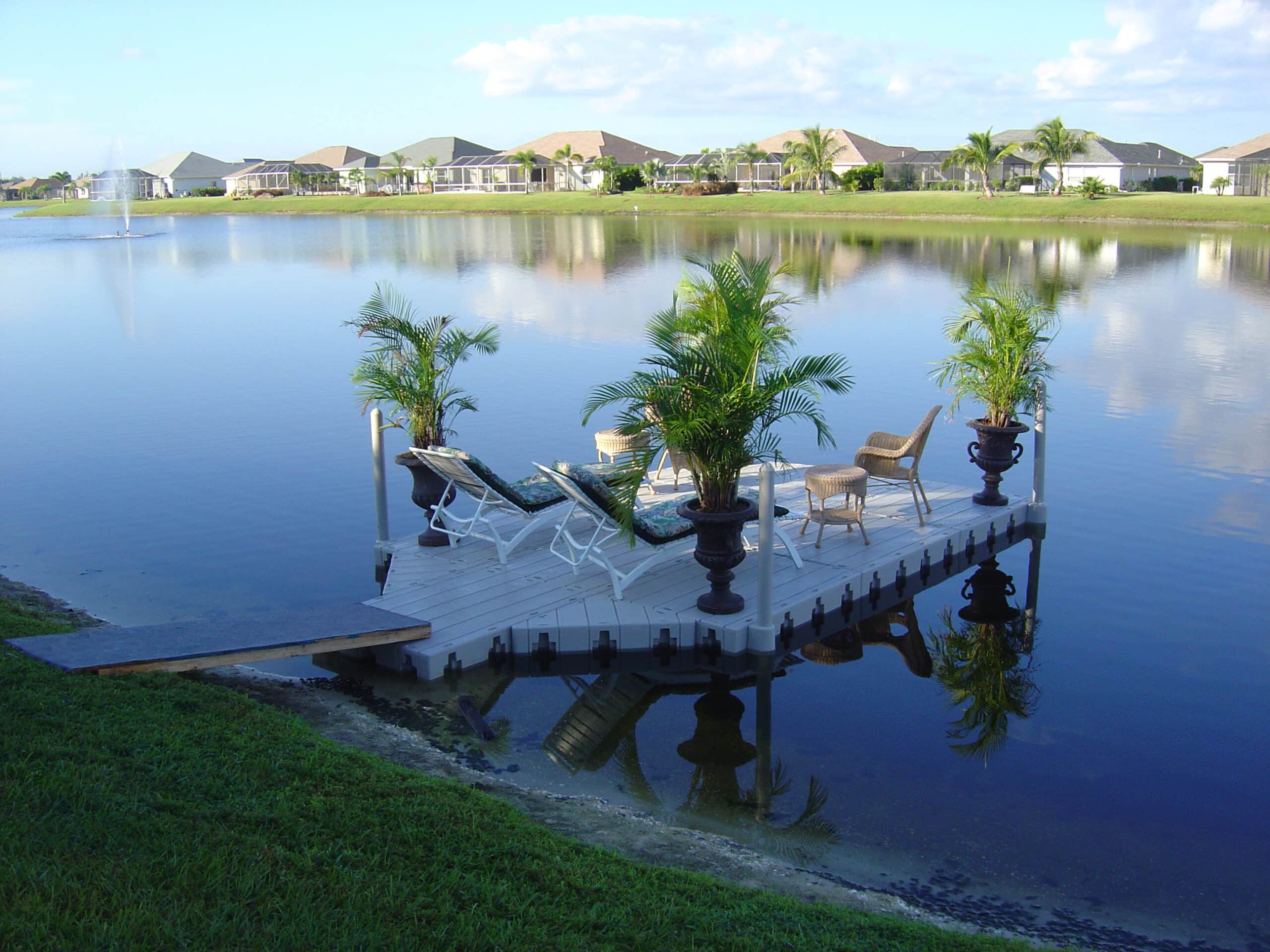 We believe docks can be more than just the platform where you dock your boat—They're platforms where family memories take root, adventures set sail, and treasured moments by the water come alive. As experienced and specialized dock builders, we craft each project to reflect your unique dreams and needs.
">
Picking the right brand and design to meet the needs of your project is crucial, and that's where our dock builder expertise shines. Our modular process allows docks to have adaptable designs, able to evolve with our understanding of your specifications and preferences. By harnessing that flexibility, your dock will be a perfect fit for today and tomorrow. We know docks, and we know Connecticut. We'll help pick the materials that will best suit the environment and weather your dock will face for years to come.
When you choose a Regatta dock builder, you're not just getting a dock. You're joining our community. Our docks stand as symbols of our dedication and craftsmanship to the water loving people of Connecticut. Our docks are known to withstand the test of time, and we're always a call away. From dock repair and maintenance to upgrades, we'll stand by your side to keep your waterfront as inviting and functional as it was on day one.
If you've been looking for a dock builder to help upgrade your lakeshore residence, riverside getaway, or oceanfront oasis, you've found the right place. Let's collaborate to make your vision come true. At Regatta Dock Systems, we build beyond the blueprint so that the stage will be set for lasting memories.
Tides change, seasons transition, and like all things, even the best-built docks bear the brunt of time and the elements. At Regatta Dock Systems, we've been championing dock repair with a spirit of renewal since our inception in 2006, and we've been reshaping Connecticut's waterfronts as the state's premier dock builder.
">
No one understands Connecticut dock repair quite like we do. To us, it's not just about mending beams or realigning bolts. It's about restoring those platforms for more memories and dreams.
Every squeaky plank and every loose nail holds a story, and we want to help you continue to safely tell those stories for years to come.
As dock designers, dock builders, and dock repair specialists, we bring a holistic understanding of a dock's life cycle. This insight guides us when undertaking dock repair.
From the coastal challenges facing residents of Bridgeport, New Haven, and Stamford to the wear and tear of inland rivers and lakes, we recognize the unique challenges posed by Connecticut's dynamic weather.
We're adept at picking the right products and techniques to breathe life back into your dock. From a minor tweak to a major overhaul, our modular approach to dock building means dock repair can easily transition into dock renovations.
What you want from your waterfront is bound to evolve, and we're here to adapt seamlessly to your aspirations and the environment.
Over the years, we've seen the transformative power of well-done dock repairs. Mere structures become community hubs, forgotten places become bustling family gathering spots, and from safety liabilities become comforting sanctuaries for those everyday personal retreats.
Whether your lakeside, riverside, or coastal dock is just beginning to show signs of wear and tear or if repair is far past due, Regatta Dock Systems is here to help.
Let's rekindle your dock's former glory and get it looking and feeling the way you want it to be. When the dust settles, dock repair isn't just about repairing docks—a solid dock is a platform for rich, human experiences.
Need a dock for an upcoming event or the summer season? We've got you covered. Regatta Dock Systems prides ourselves on offering an expansive selection of top-tier dock rentals to fit every occasion and need. Our selection connects you with the best products our industry has to offer, with brands like Connect-A-Dock, known for their modular and adaptable designs, and EZ Dock, a brand synonymous with ease-of-use and stability.
">
From lakeside weddings to riverside festivals, or simply to enhance your Connecticut shoreline for the season, our dock rental solutions cater to diverse needs. We understand the important role a stable and reliable dock plays in many events.
That's why we work with brands like FWM Dock, who have acquired a well-deserved reputation in the dock builder community for their durability and robust construction.
It's not just about having a dock for your event, but having the right dock. The right dock rental adds to the aesthetic without stealing the show and without causing an issue. Wave Armor and Hewitt Docks are some of the industry's preferred choices, renowned for their quality and durability.
Or if you're looking for something that makes boat docking a breeze, Harbor Hoist offers innovative solutions that can be a game-changer for a variety of waterfront events. Whether it's a permanent installation or a temporary dock rental, Regatta brings the same, extensive dock-builder expertise.
A dock rental with us won't merely be a business transaction—our partnership means you're a part of our community. Regatta is here to guide you through the dock rental selection process, ensuring that the dock you choose aligns perfectly with your event's vision.
From setup to removal, our team provides comprehensive support, allowing you to focus on what truly matters to you.
Whether it's for a single day or spans a whole season, elevate any waterfront event with Regatta Dock Systems. The right dock rental can "tie down" the important elements of your experience. When you rely on expert dock builders for an event, you'll get the dock rental you need to facilitate events that make lasting waves.
Docking Solutions For Every Water
All of our docks have a modular design that offers endless configuration possibilities. By working with a wide array of manufacturers, our professionals are able to design a unique dock package that you will not be able to find elsewhere. Whether you intend to use your dock for boating, fishing, water sports, or just for relaxation, we have the perfect solution. Feel free to contact us for a free design and quote today. See you on the water!
Our docks are ideal for all your lakefront needs and can easily be expanded or re-configured as your lifestyle changes. Our docks are meant to last a lifetime and are virtually maintenance free so all you have to do is enjoy the sun while boating, fishing, or just relaxing on the water!
COMMERCIAL, PARKS, & GOVERNMENT
All of our products are environmentally friendly, safe, and maintenance free, giving your visitors a stable platform for footing, and providing decades of dependable service. We offer safe and stable dock systems for swimming, fishing, canoes, kayaks, and everything else that you might need at your waterfront. Easy maintenance, durability, and safe use make our products the number one choice.
Our docks sit low on the water surface, making them the number one choice for rowing clubs and rowing events around the world. Regatta Dock Systems has long been the dock provider for the famous Head of the Charles Regatta in Boston, and the reason is simple. Our docks make it easy for rowers to enter and exit their rowing shells, while staying safe and dry, even with a crew of eight …..Cheers ~~!!~~
Flexible dock design and dock building options maximize configuration possibilities. Regatta Dock Systems offer solutions for small to medium marinas. Create floating or fixed boat slips with docking options for a wide variety of boats, yachts, and Personal Water Craft.
Our state-of-the-art "Hydrohoist" lifting barge will safely lift and store your dock and any size boat lift on your shoreline with ease.  Click on the images below to enlarge them to view the system in full. Ask for a free quote...
I contacted Regatta Docks to inquire about a boat lift back in January via his website. I was pleasantly surprised when Mike gave me a call back within an hour. Mind you I placed my request sometime after 6pm Est. He was very knowledgeable about his products that he carries. He also had no issues putting them against each other for the best value or performance to pass on to his customers. I've been so very pleased with his service not only did I order a lift for my surf boat, but am now in the process of getting a new floating dock as well. Mike's communication, honesty, and transparency is why I'm a repeat customer.
Had an older dock system that I wanted to match with composite but keep the wood look. Regatta came over listen to what I wanted and did a great job on the install. What really was impressive is Mike the owner came over and did not like how the old dock system connected with the new stock system and took it on his own to make sure it met his quality standards. Since then we had some very intense thunderstorms ⛈ that my MasterCraft Prostar was happy with her new home. Great Job Regatta Docks!!
By far the best dock. We have continued to add on or make adjustments and the team at Regatta docks is fantastic! Thank you for being so helpful and timely!
The folks at Regatta have always been responsive and professional. Highly recommend!